Cecilia's Main St. Tattoo Gallery
Custom WordPress Website Theme and Logo Design
---
Cecilia's Main Street Tattoo Gallery is Ligonier, PA's first and only tattoo shop. Originally founded in 2015 by Dennis Hager, Cecilia's has been receiving nothing but positive feedback all over the Western Pennsylvania area. We helped Dennis build an entirely new brand, as well as an online presence for himself by creating a custom logo and website for his business.
Objectives
Create a brand identity from scratch to represent Dennis's new tattoo shop that reflected his artistic style and taste.
Build a website for the business that would stand out and attract prospective customers while fitting in with the rustic identity established through the logo.
Focus on being able to display work on the site and keeping it easy to update with new pieces to keep content fresh.
A Logo as Creative as the Business It Stands For
Since Cecilia's was a new venture for Dennis, we had to create an entirely fresh brand for the business. Being a tattoo shop, there was a lot of creative freedom in the style and imagery used. The client expressed interest in using a rose as the main image, but was very open to creative input beyond that.
We broke the logo down into the name "Cecilia's" with the rose image, followed by the rest of the name as a "tagline". The rose was hand drawn by our designer Rachel and refined digitally using Adobe Illustrator. A very elegant, calligraphic font was used to spell out the name, and a simple sans-serif font was used to add the rest of the business name.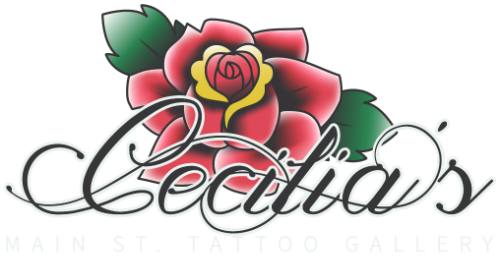 The client was very happy with the outcome of the logo and has gone on to use it in a variety of marketing and branding applications.
The logo we created is featured on the Cecilia's Main St. Tattoo Gallery website, and was also used by the client to create gift certificates, business cards, t-shirts, mugs, and even a hand painted wooden sign that hangs outside of the shop.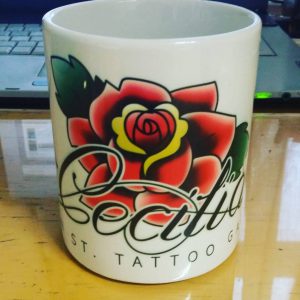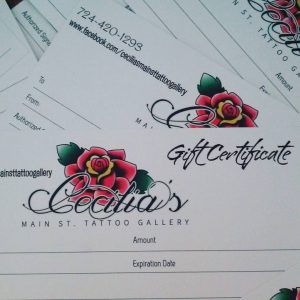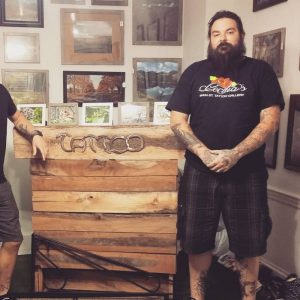 Expanding on the Creative Image With a Unique Website
We set out to make the website for Cecilia's a bit more artistic than usual. Since Ligonier, PA is a small town in the mountains, Dennis wanted to create a rustic vibe for the shop. We brought this style into the website with lots of textures while using design elements that would further tie in his brand. Dark wood grain, torn paper, and thick, bold fonts gave the site a rustic feel, which we then complimented with various graphics that reflect the old school tattoo style of the logo.
We built this site on WordPress to allow for quick and easy updates to the content and imagery. The site is fully updatable using a drag and drop editing plugin, which provides Dennis with an easy interface to keep all of his content up to date and looking great.
The site is feature packed, and also fully mobile responsive so it looks great on any device it's viewed on. Every aspect of the site is fully custom, from the sticky header to the portfolio displaying all of Dennis' work.
We also set up a number of online accounts to help Dennis' web presence, including Google+, Google Analytics, and Google Webmaster Tools. This site and associated email is fully hosted by Thought Space Designs on our "Starter" plan.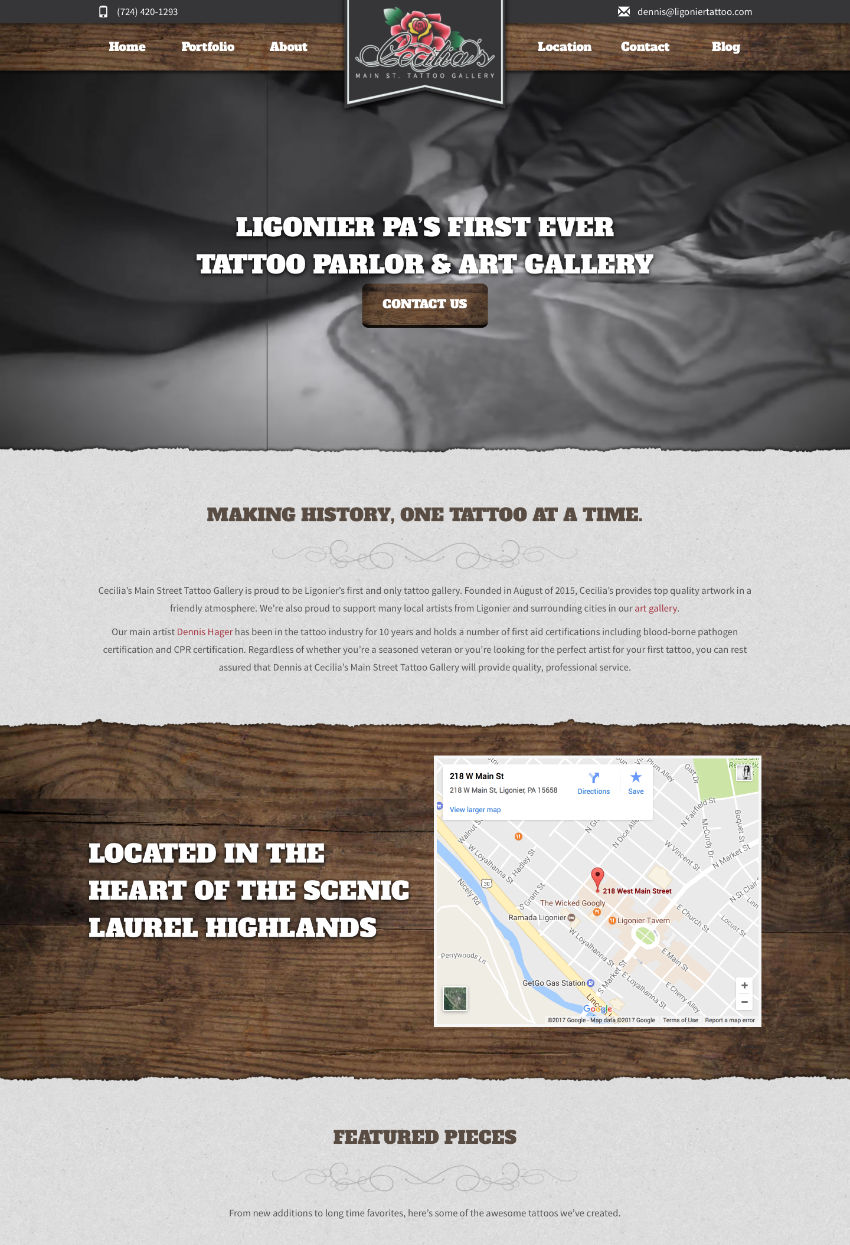 The Power of a Solid Brand
Since the shop opened in 2015, Dennis has completed many original pieces for his clients and received a ton of positive feedback on his business and skills. Many curious clients use the contact form on the website to email Dennis and discuss potential artwork. He's getting new inquiries every week and keeping himself busy as his business steadily grows.
All in all, the addition of a cohesive brand and website has been invaluable to his marketing efforts and the growth of his business. Having a place for customers to explore his work online before reaching out helps establish trust, gain interest, and create a professional image for the shop.
Check Out the Completed Site