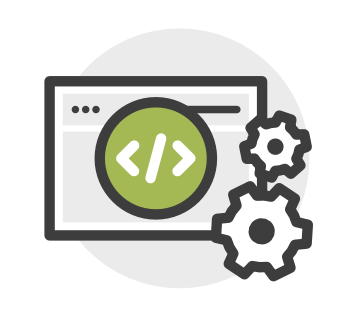 With Code, Anything Is Possible
Believe it or not, but Thought Space actually started off as a basic website design company. Over the years, our skills and expertise grew and expanded to cover all of the design, marketing, and development skills needed for most businesses. Still, our company roots lie in programming, and our talented team has the ability to tackle any project your business may need. Whether you're looking for a pretty new website for advertising, or you need a custom app to drive the backend of your business, we can help you determine the best solution for your needs.
Built or Bought, We'll Find a Solution That Works For You
We've got years of industry experience building custom websites and applications for all sorts of different businesses. Our years of experience have helped us build a set of pre-existing tools to expedite our workflow. For example, we utilize common web content manage systems to build websites faster, keeping costs down for you. On the flip side, however, our programmers have the skills necessary to create any custom application, even if nothing similar exists currently.
You can lean on our experience to help find the best possible solution for your web / app needs, whether pre-built or custom coded.
But What Exactly Can You Develop?
Even though we started out as a basic web design firm, our skills, network, and expertise have expanded to cover most all custom development needs. Whether you're just trying to get a basic website for your new business, or you're an established company looking to create custom tools to increase employee productivity, our experts can consult with you to determine the best options for achieving your goals. Below are just some examples of how we've applied our development skills in the past.
---
Basic Websites / Web Apps
Smart Phone Apps (iPhone / Android)
Custom Productivity Scripts
Web APIs for Data Dissemination
How Long Does The Development Process Take?
Every project is as unique as the business requesting it, and therefore it can be difficult to answer this question without more information. Basic websites may only take a few weeks to complete, while more advanced applications may never actually finish being developed, as they're always being maintained with new features, updates, bug fixes, and more. In order to truly give you an idea of how long your development project might take, you can simply shoot us an email or give us a call, and we'd be happy to discuss your needs with you. After getting a more thorough understanding of your project, we can give you an idea of how much time will be involved in crafting your perfect solution.
No Matter What Your Development Needs, Thought Space Designs Can Turn Your Vision Into Reality
In the past, we've created custom web and app solutions for lawyers, financial advisors, dentists, medical professionals, tattoo artists, hell, even piano teachers! The beauty of custom development services is that the only limit is your imagination. We've built custom apps for start ups, and rewritten old code bases for old web apps. Our programmers have the skills necessary to reverse engineer most any code, and can help you figure out a solution that works for your business, no matter how complex.