Websites Are Kind Of Our Thing.
---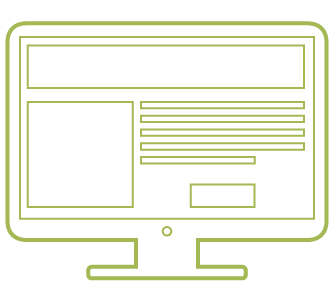 Whether you're looking to promote your business online or you simply blog in your spare time, Thought Space Designs is located here in Pittsburgh to help you with all your web design needs. We've worked with businesses large and small to generate online leads and sales. A great website revolves around knowing and understanding the client and their needs. We work with you to perfectly attain the image you want to portray for yourself.  We then take every measure necessary to make sure we've integrated all the features you need to be successful. As a web based business, we know what to do to make sure your website is both beautiful and user-friendly. We take the time to create interesting, sustainable website designs that both engage the viewer and put your most important information front and center. If you already have a website and just want it brought up to date, we can help with that too! You can feel comfortable putting your online presence in our hands. If you want to know an approximation of your website's cost, you can check out our pricing page
Mobile is Coming… Are You Ready?
---
With more and more people using their smart phones and tablets to look up their favorite websites, it's extremely important to make sure your business portrays an elegant image to this growing market.  We here at Thought Space Designs have the knowledge and experience required to mobilize your site at an affordable cost to your business.  We create mobile ready "responsive" websites from pre-existing designs.  Even if you don't have a site, we can create one for you from the ground up all while making sure to include the latest mobile user experience techniques.
Mobile Websites Are The Future!
---
With the rapidly increasing amount of users visiting websites from mobile devices, it's important to future proof your business by getting a responsive site.  We know multiple ways to help you make your website mobile friendly, and we can help you find the solution that fits your specific business needs.  We are well versed in the mobile field, and have had years of experience creating sustainable mobile websites for many different business. Starting in 2014, all new websites created by Thought Space Designs will be responsive. 2013 showed a drastic spike in mobile browser traffic on all sites, and to ignore this large percentage would be detrimental to just about any business.
The web is always changing…
---
…and we can help your business keep up with the installation of a custom Content Management System (CMS).  We utilize the popular content management system WordPress help you fulfill all of your web needs.  This system provides you with an easy-to-use online administration panel with which to edit the content of your site.  That's right: we create a design for you, and you can keep it up to date yourself.  No need to revisit professional designers and pay a fortune for simple text updates.  A CMS can save your business thousands of dollars over the long term, and we're ready to help you get your feet on the ground with one today.
Got An Old Site?  We Can Help.
---
If you have a site of your own already, but you're looking to freshen it up, you've come to the right place. We can work with you to either bring your old design back to life, or pick it apart and create an entirely new identity for you using cues from your businesses marketing material. No matter what your graphic needs, we can help. We can even take your old static site and convert it to the WordPress platform.
Long Story Short: We're Your One Stop Web Shop
---
If you're looking for web assistance of any sort, you can trust us to do the job right the first time, every time.  We guarantee that you'll love working with our team, and that the quality of our work will leave you speechless.  If you'd like to know more, feel free to contact us.  We look forward to adding you to our family of satisfied clients soon. Get an estimate of your website's cost over on our pricing page.