If you own your own website, and you aren't using live chat software, you probably should be (especially if you're selling a good or service). Live chat software provides your clients with an easy to use chat system with which to get in touch with you. You'll have a panel that you can log in to in order to monitor and chat with your visitors. Without a doubt, you'll find that these systems are easy to learn, and the benefit they can provide to your business is outstanding.  You'll find new client leads rolling in left and right, and you'll be surprised by how many people with questions would've otherwise never contacted you.
We here at Thought Space decided to pull an experiment of our own recently.  We hadn't used any live chat solution on our blog, as we weren't sure of the benefit that it would provide (if any).  Luckily, we were able to find multiple online sources that were able to help us get our feet on the ground with a free trial so we didn't have to pay a dime (or even give out credit card numbers) until we were sure live chat would work for us.
One of our biggest concerns when shopping for a live chat provider was the availability of a mobile app for Android.  We're all android users here, and we're constantly on the go, so it was important that we could keep our live chat online 24/7 even when there's no computer around.  With this in mind we began the hunt, and came up with two competitors that each had their own advantages: Banckle and LiveChat Inc.
Banckle: Customer Service 2.0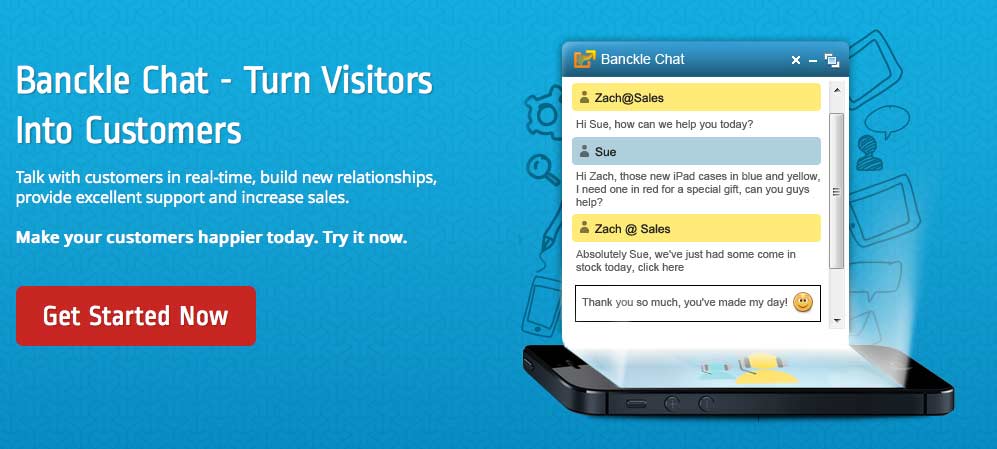 Banckle was the first live chat solution we came across, and it turned out to be a great find.  Banckle has a tiered pricing structure that starts at $9.00 a month, and goes up depending on the amount of users you require and whether you need special features enabled.  When I found this site, they seemed to have great features and strong support.  While looking around the site, I came up with a few questions that were very quickly answered by the implementation of Banckle installed on their site.  Their live chat support proved to be very helpful, and was able to help me find the information I needed.
Between the quality support and the feature set, I was sold.  We signed up for the trial, installed the chat system to our site, and were very quickly let down.  The chat software worked fine, but I couldn't seem to find any options for theming the plugin on our site.  Without hesitation, I set out coding custom CSS, only to find that it wasn't being respected.  I then tried to implement custom jQuery code to override the styles, only to find that this didn't work either.  After some further investigation (and another live chat session with Banckle Support), I was able to find out my problem: I didn't have "white labeling" enabled.  White labeling is what Banckle refers to theming capabilities as.  Unfortunately, during the trial period white labeling is not activated.  This was very detrimental to us, and prevented us from launching our site with Banckle installed as visual identity is kind of a large factor for a graphic design firm.
After yet another bout of chats with Banckle support, I was actually able to get white labeling enabled on my free trial.  Not only that, but I was able to have a custom plan set up just for our needs.  The cheapest white labeling plan available was $69.00 monthly as it offered multiple chat agents.  Considering we only really needed one agent, this was unnecessary for us.  Banckle was able to offer me a $29.00 dollar plan that featured everything from their $9.00 plan, plus had white labeling enabled.
After finally getting everything settled, and theming our implementation of Banckle, I was finally able to push the site live.  After getting Banckle up to our production site, I downloaded the mobile app for my Android phone.  I logged in, and then 2 hours later when I went to visit the site, it said that all live chat operators were offline.  I checked my phone, and sure enough, I had been logged out of the app without warning.
After revisiting the support team for the fourth time, I was actually able to convince them to create an app patch to fix this problem, and the updated app was available within the next few days.
Unfortunately, by this time I had already moved on to a new, more widely maintained solution:
LiveChat Inc.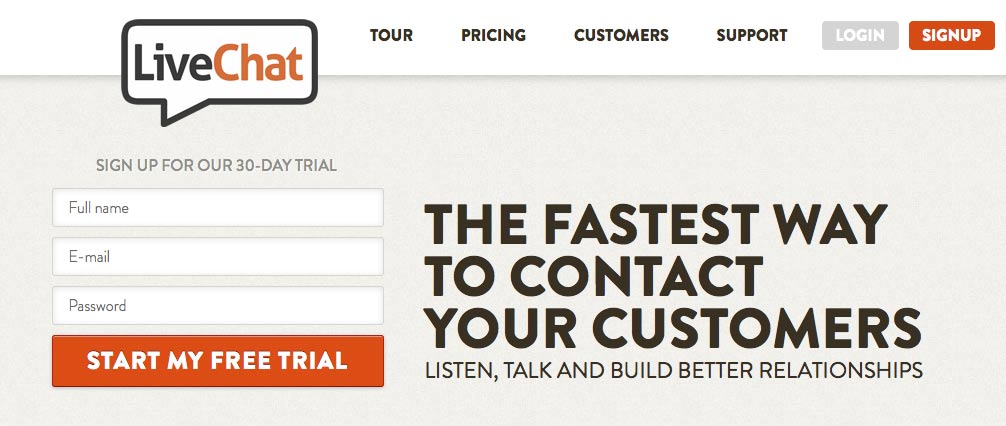 It comes as no surprise that when a company name is used to define a product, that company probably has a solid foundation and a great product.  The same is true of LiveChat Inc.  LiveChat provides an absolutely beautiful design experience throughout their entire site, and they put the icing on the cake by providing one of the most comprehensive, yet easy to understand live chat systems on the market starting for only $36.00 a month.  This is admittedly more than Banckle, but the feature set proved to be more than worth it.
The chat operator log in panel is absolutely elegant.  Everything is laid out in a very easy to understand format, and it's extremely simple to find your way to your active chats.  The admin panel provides 6 premade themes, and even offers the option of creating your own custom theme.  There are tracking options, survey options, and many more unique features integrated with this software.  The best part is, I've been using the mobile app for this software for two weeks now without a single hiccup.
TL;DR
Banckle and LiveChat Inc. both turned out to be wonderful in their own right.  Banckle has outstanding customer support, and any issues that you mention will be addressed very hastily.  On the other hand, I can't attest to the quality of LiveChat Inc.'s support, but it should go without stating that if I didn't have to contact support, it's because I didn't experience a single issue with the software.
I commend Banckle support, but until the quality of the product is brought up to par with LiveChat Inc.'s software, the extra $27.00 a month is more than worth the feature set.
If you're looking for live chat software for your own site, I'd recommend LiveChat Inc.'s solution all the way.  It's beautiful, easy to implement, and even easier to use.  If you'd prefer a more affordable alternative, Banckle is undoubtedly the way to go.
Keep in mind also that our hunt for a live chat solution revolved around the existence of a mobile app.  There are tons of other solutions available, but these were the two most popular with an Android app.
Do you use live chat on your site?  Have you been thinking about implementing it?  Let us know your experiences in the comments!
---