Getting a custom logo designed for your business is a great step towards building your brand identity. Once the logo is designed, your designer should send you a package of logo files to use in your marketing material. You need to make sure your designer provides you your logo in a variety of formats so that you will be able to use your logo anywhere. This post goes over some of the most popular file formats for logos (and other graphics) and why you may need each one.
Vector vs. Raster
You may hear these 2 words during the process of working with your designer to create your logo. These are the 2 ways your logo files can be saved out of the program your designer uses. What's the difference? Simply put, vector files are the source files that can be edited, and raster files are the exported, flat images you use on the web.
Vector files are the files that your designer actually designed your logo in. They can be fully edited to adjust size, color, etc. These are required by many printing services for things like business cards and other marketing material. The printer can use the vector files to resize the logo to the necessary size to fit their document specs without losing any quality of the image.
Raster files are what you upload to the web. Any image you upload to the web is probably a type of raster file. These files are simplified and should not be edited to adjust size or color. They are exported at set sizes to fit various applications such as uploading to Facebook or putting your logo on your business's website.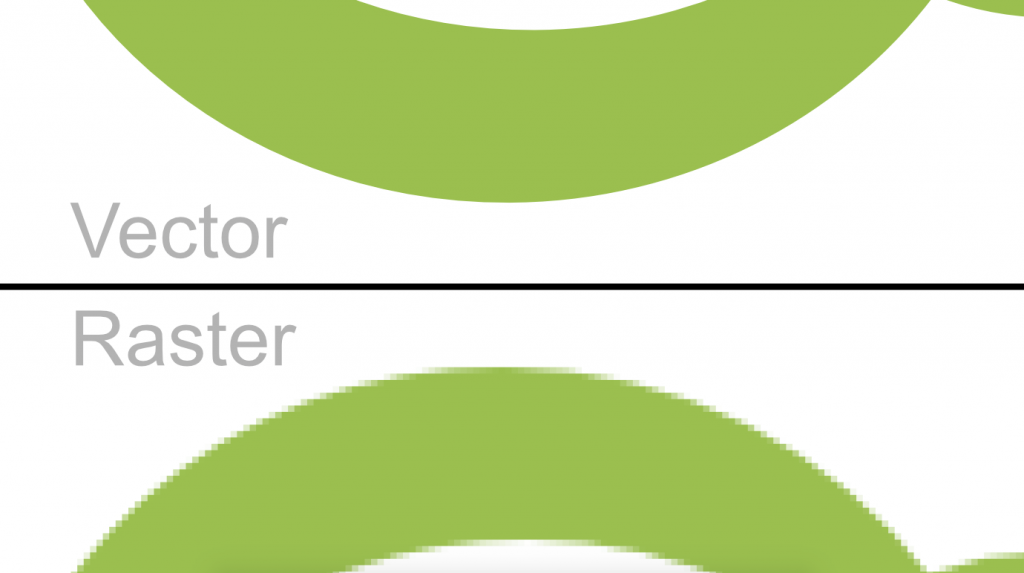 See the difference? Raster files are pixelated, meaning they are only clear when they are viewed at the size they were exported at, or smaller. Enlarging these files causes them to get blurry, and there's no going back once they're saved!
File Types & Their Uses
Ai, or EPS: This is the ideal file to send to anyone creating marketing material for you. These files can all be modified, sized up or down, and recolored as needed – without reducing the quality of the logo. If you're having business cards, flyers, letterhead, or any other print material designed and printed, you should give the designer either of these file formats.
PDF, TIF, or PSD: These files are good to have for certain use cases. PDFs and TIFs can be read by almost any computer, even if they don't have special graphics programs. PSDs are common because they are exported by the program Photoshop, which many people know and use. PDFs can sometimes be edited by graphic design programs, depending on the way they are saved by the designer. TIF files are often high resolution, so they are good for some instances of printing, although not ideal.
PNG: The most commonly used file format for your logo will be the PNG. This PNG should have a transparent background, meaning if you place your logo over a photo, you will be able to see the photo behind the logo. This file is used on websites, and can even be used on print material, if it is large enough.
JPEG: A high-resolution JPEG file is important to have for using your logo in situations that don't accept any other file format. JPEGs are the most common file format for images because they can be saved at small sizes and are accepted nearly everywhere you need to upload an image. These are not recommended for most print material because they tend to look grainy and low-quality compared to other file types.
Never provide a JPEG logo to your web designer. JPEGs cannot have transparent backgrounds, so they don't work with a lot of modern web design styles.
Your logo designer should be providing you with a variety of files like this in order to prepare you to use your logo in all of your marketing outlets. The most important file to get, however, is the source file. Make sure your designer gives you a .Ai, .EPS, or .PSD when they finish designing your logo. All other file formats can be created from that file, and it will be more useful to printers and other designers in the future!
---